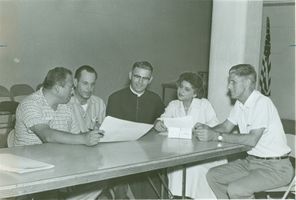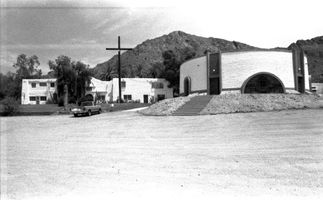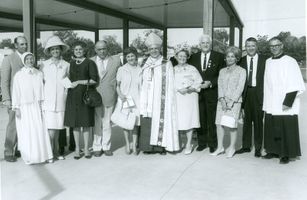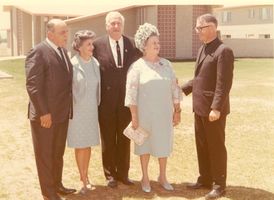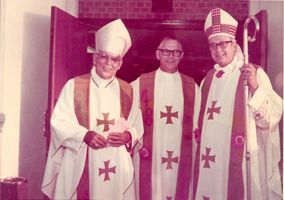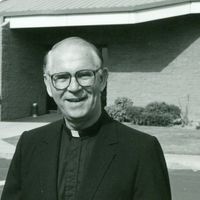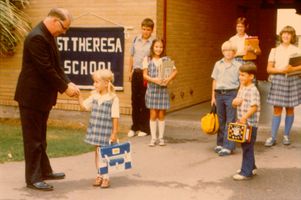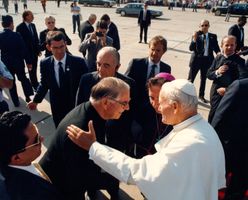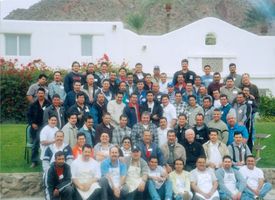 Our History
It was 1963 when the Claretian Missionary Fathers purchased the property, then La Fonda Fiesta Guest Ranch, as a residence for priests and the expansion of the Cursillo Movement. They named it after Claretian founder Saint Anthony Mary Claret. Within a few years, the Claretians built Our Lady of Guadalupe Chapel on the premises. Dedicated on April 19, 1969 and the first Cursillo chapel in the United States, Our Lady of Guadalupe still stands today as a testament to the faithful who continue to come to Mt. Claret for solitude and prayer. After more than two decades of ownership by the Claretians, they were no longer able to operate the retreat center and decided to sell the property at the end of the 1980s.
Enter Monsignor John McMahon, a priest from Ireland who had originally come to Arizona through the Diocese of Tucson. In 1988, Msgr. McMahon was serving as pastor at St. Theresa in Phoenix. He was also the vicar of buildings and grounds with the Diocese of Phoenix, responsible for surveying and buying land throughout the Valley as future sites to build churches and schools. Despite the condemned status of the Claretian's Cursillo property, its prime location was a site to behold in the eyes of Msgr. McMahon. As diocesan vicar, he arranged for the purchase of the property in 1989.
"What Msgr. McMahon saw as a uniquely special place then has remained true today," said Tom McGuire, director of Mt. Claret. "People are touched by the beauty that's up here. We don't turn anyone away as part of our commitment to serving the diocese.
"We welcome anyone to come up and walk the grounds," said McGuire who added Sunday mass is held at 10 a.m. in Our Lady of Guadalupe Chapel and adoration is held on Wednesdays.
Fond memories: Mother Teresa and the Cursillo experience
A quarter of a century holds many fond memories for Msgr. McMahon who built and ran the property for two decades and has lived onsite since the purchase by the diocese. Among them is the visit from Mother Teresa on February 3, 1989. She was in Phoenix talking about Arizona's homeless plight when Msgr. McMahon invited her to visit the Cursillo retreat center. The next morning, before departing Phoenix, Mother Teresa blessed Mt. Claret with her presence. Msgr. McMahon remembers fondly, "I met her at the bottom of the stairs at the chapel and escorted her inside.
"There she talked about her work with the poor in India, the number of people who were dying due to lack of medical resources and unsanitary conditions. People got wind of the fact that she was going to be here, so the place filled up in no time. After she spoke, I brought her out through the sacristy."
The bible Mother Teresa signed and photos during her visit to Mt. Claret are on display in the main administration building at the retreat center. The display was dedicated by the Risi family of Phoenix on September 5, 2012.
Also unforgettable for Msgr. McMahon are all those who have experienced spiritual renewal through Cursillo. To date, approximately 35,000 people have been touched at Mt. Claret through this profound three day weekend or "short course of Christianity."
"On a personal level, Cursillo affirmed the priesthood for me," said Msgr. McMahon. "People come from all over the Valley, their faith is refreshed and they leave here changed."
The fabric of Mt. Claret: Retreat ministries and community service organizations
The inspiration of Mt. Claret is evident in the various ministries that come to Mt. Claret to build their programs such as the Cursillo Movement, Catholic Singles Community, Acts Ministries International (AMI) and Catholic Engaged Encounter. Community service organizations such as the Order of Malta and Christ Child Society of Phoenix also call Mt. Claret home and are the fabric of Mt. Claret today.
Christ Child has touched the lives of children in need in the greater Phoenix area since 1985 through educational programs and the distribution of layettes and bedtime bags. In 1995, the organization began holding their days of prayer, masses and various meetings at Mt. Claret where Msgr. McMahon served as their spiritual director. Under his guidance the Christ Child Cottage at Mt. Claret was dedicated in January 1999. The new 2,500 square-foot space allowed for the organization to expand their work room and essentially bring all their programs under one roof, according to Elida Desmond, chapter president.
Catholic Singles Community (CSC) provides sacramental and devotional-centered spiritual retreats for Catholic singles ages 21 to 40. The CSC ministry has held its twice-annual retreats at Mt. Claret since its founding in 1993. According to former board member Jay Cedillo, many of the participants have found a oneness with God at Mt. Claret, unlike any other location. "Mt. Claret continues to draw people to its doors long after their retreat whether through Cursillo, weekly adoration or just coming to spend prayer time in the chapel," said Cedillo.
Catholic Engaged Encounter, a marriage preparation weekend required by the Diocese of Phoenix, is held at Mt. Claret three times per year. Approximately 30 couples attend a weekend retreat which are available for English and Spanish-speaking couples. Mt. Claret provides the ideal environment—it's both conveniently located and free of distractions—where couples can concentrate on building the foundation required for a lasting and healthy marriage.
The Cursillo Movement's immediate purpose is to provide a foundation for the person to live what is fundamental for being Christian - experienced through the encounter with oneself, with Christ, and with others on the weekend. The ultimate purpose is to leaven the world with the Gospel. The Cursillo Movement is focused to help each of us grow in our relationship with Christ. The natural result of this will then compel us to fulfill our baptismal responsibility: to go forth, as apostles, and proclaim the good News that God in Christ loves us.
The beauty of the diverse ministries that come to Mt. Claret is that they touch people's lives at various stages and provide hope in moments of despair, opening the door for the Holy Spirit. One such ministry is Rachel's Vineyard, a worldwide ministry that offers women and men a supportive and non-judgmental environment for healing after abortion. Rachel's Vineyard weekends at Mt. Claret and other locations are designed to acknowledge and work through any unresolved feelings and emotional distress many people struggle with post abortion. "The impact of this ministry at Mt. Claret is life changing," said McGuire.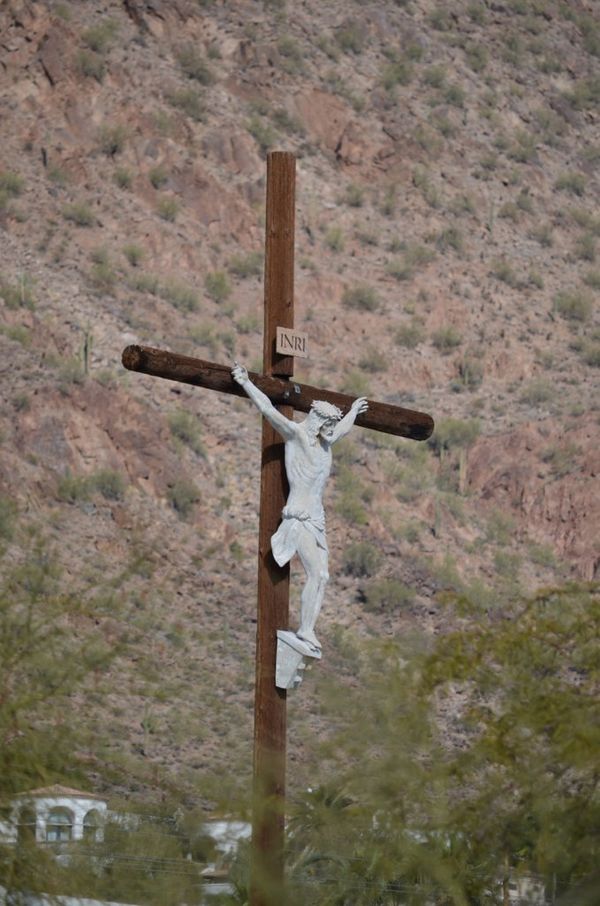 Special, Holy events
"It is a highlight to be able to host members of our diocese at Mt. Claret throughout the year," said McGuire. This includes priests as they prepare for Holy Week. During this time each spring, upwards of 90 priests from across the Phoenix Diocese gather at Mt. Claret for prayer and reflection prior to the traditional Chrism Mass held each year at Ss. Simon and Jude Cathedral.
During the seasons of Lent and Advent, employees of the diocese have an opportunity to spend quiet time with the Lord at Mt. Claret during day-long retreats.
Andrew's Dinner at Mt. Claret is a special event and opportunity for pastors to invite young men who may have a calling to the priesthood. The dinner, organized by the Diocesan Vocations office, features guest speakers that include seminarians and newly-ordained priests who share their journeys of discernment. In addition, seminarians from the Phoenix Diocese have the opportunity to spend time at Mt. Claret through social events planned by Serra International, a global lay apostolate that supports vocations to the priesthood.
Reverend Monsignor J McMahon
Monsignor John McMahon passes into eternal rest on November 6, 2014
He was born on September 3, 1921. Fr. McMahon was ordained to the priesthood in Ireland on June 13, 1948 for the Diocese of Tucson. Upon his arrival he was served at St Cyril's parish in Tucson, St Phillip Parish in Payson and then as pastor of St. Mary's Parish with responsibilities at Seton High School. From 1959 through 1968 Fr. McMahon initiated the necessary elements to build a new facility for the elementary school, build a new convent, and add a new gymnasium at Seton.
In 1968, Fr. McMahon was assigned to St. Theresa Parish where he served as pastor for 23 years. During these years he saw the beginning of the Diocese of Phoenix and he built St. Theresa church and parish center. He was assigned as coordinator of the Papal visit during which the Holy Father honored him with the title of Monsignor.
Msgr. McMahon served as Director of Mt. Claret Center, the Cursillo Movement, Chaplain of the Order of Malta, was a spiritual advisor to St. Vincent de Paul Society, Christ Child Society of Phoenix, and Chaplain for the Arizona State Council for the Knights of Columbus . He was also on the board of the Huger-Mercy Foundation. He was also the Vicar for Diocesan Buildings and Properties for over 25 years.
He was most recently instrumental in the building of the beautiful new St. Francis of Assisi Church in Ak-Chin for our Native American people. Msgr. McMahon was definitely a effective builder, but he built far more than buildings. He will always be remember for building the faith of the people he served through his pastoral care, wisdom, and love for his priesthood.
The visitation and vigil took place on Thursday November 13th at St. Theresa Parish, 5045 E Thomas Rd, Phoenix, from 6-8:00 PM. The Funeral Mass was celebrated on Friday November 14, at 10:00 AM at St. Theresa Parish. Burial took place in Ireland.