Sunday Mass: 10 AM
Mission: Mount Claret is a Christ-Centered, Holy Mountain providing an environment for spiritual growth, healing and conversion in the Catholic tradition.
Chapel project update
We have received the report on the results of the Feasibility Study for the Chapel project. The results were very favorable and supportive of us moving ahead with the campaign to raise $1,000,000 for the renewal project of our Chapel! Looking at the Executive Summary ; the participation rate of 18% was notable – our campaign company reported that anything over 15% is a good representation of the organization. Statistical findings were high both in favor of a campaign and a willingness to contribute. 16 respondents agreed to serve on the Campaign Cabinet. The seating capacity was brought up by several people who were interviewed. Currently we can hold 100 people in the pews. We had a liturgical designer look at our current pew layout and he came up with a radial pew design that would hold 132 people. We have asked our architect to consider other options for getting our capacity closer to 150 people.
Our timeline is as follows; Capital Campaign from February 2020-April 2020, May 2020 – September 2020 construction work, October 24, 2020 rededication date (Tentative).
We are happy to announce that Auxiliary Bishop Eduardo Nevares will be our honorary Campaign Cabinet Chair! Bishop Nevares has a great presence at Mt Claret and has proved vital to the ongoing success of several of our ministries.
We have a lot of work to do between now and October 24, 2020!! This is a historic project for Mt Claret. The Chapel is the "heart" of our campus as the destination for Holy Mass, Adoration, Confession and quiet prayer. Our mission statement "A Christ–centered Holy Mountain providing an environment for spiritual growth, healing and conversion in the Catholic tradition" leads us to continue to look for humble and modest ways we can enhance our campus so that we are truly providing an environment healing growth and conversion in our Faith. The Chapel improvement project seeks to do just that!
If you have any questions about the project or would like to learn more please contact Tom McGuire tmcguire@mtclaret.org or 602-840-5066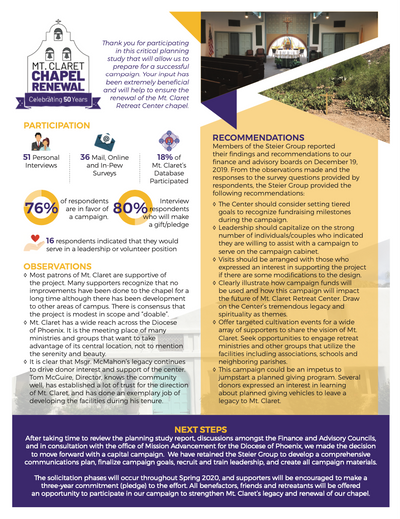 Thank you for participating in this critical planning study that will allow us to prepare for a successful campaign. Your input has been extremely beneficial and will help to ensure the renewal of the Mt. Claret Retreat Center chapel.

Thank you to everyone who joined us for An Irish Evening Under the Stars: Celebrating the Past Creating the Future! We could not have had a more wonderful event. Thankyou to Personal Touchcatering, the bandStilicho, all the volunteers, staff, and committee that made honoring Msgr McMahon and the center so spectacular. A special thank you toCeline Wilson and MaryMcCabe (Msgr. McMahon's niece) for joining us all the way from Ireland!
Photos of the night are available for download and print: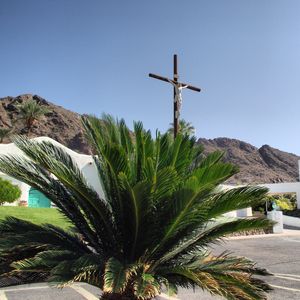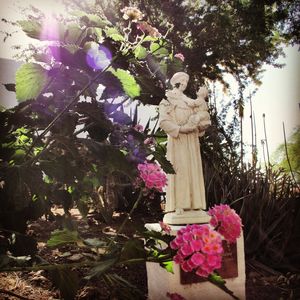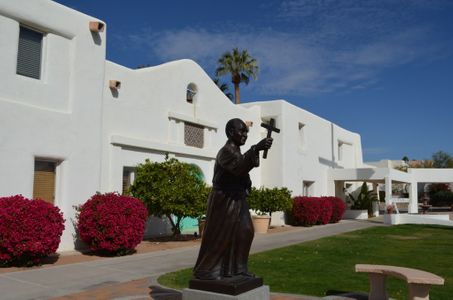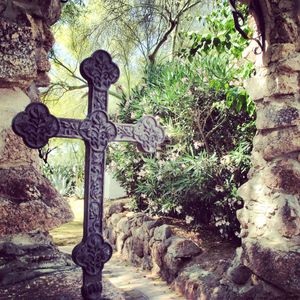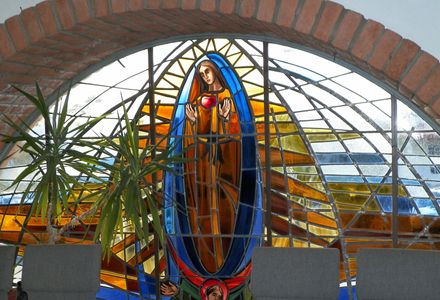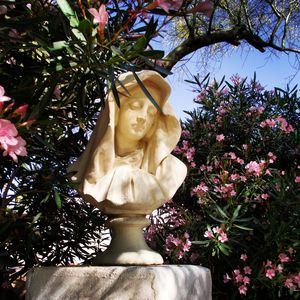 Welcome to Mount Claret!
Throughout the Gospels we see the Lord Jesus repeatedly call the disciples to step away to a quiet place where they can be sustained by prayer. In fact, he even tells one of His followers that such time spent with him "is the only necessary thing." Our Lord still desires to spend time with us. After having entered into union with Him by way of our Baptism, we are continually invited by God to grow in knowledge and love with him. Such a profound relationship requires time away from the busyness of our lives when we allow Him to renew us in His love.
Here at the base of Camelback Mountain, Mount Claret Retreat Center provides a true sanctuary where the faithful can step away and attend to the only necessary thing: time spent with the Lord. The center is especially fitting for meetings and retreats for all types of groups and organizations such as parish communities and staff, elementary and high school students and faculty and youth groups. Mount Claret is also the home of Cursillo Retreats, Christ Child Society, Knights & Dames of Malta and many more.
"Come, let us climb the Lord's Mountain…that He may instruct us…in His ways and we may walk in His path." —Isaiah 2:3
Contact Us
Mount Claret is a sacred place nestled at the base of Camelback Mountain, operates as a Catholic Retreat Center, serving the entire Diocese of Phoenix. Located in Phoenix on 54th Street, just north of Camelback Road, the Center is situated on 15 acres of beautiful Sonoran desert landscape framed by the majestic mountain. This truly awesome sight beckons visitors to reconnect with the Lord in prayer and reflection. Mount Claret provides an ideal location for a parish, school or Catholic organization's meetings and retreats.
To book a retreat for your ministry or to schedule a private retreat please call (602) 840-5066 or email info@mtclaret.org.
For more information on the facility and pricing please click here.